As the title states, an incredible new week for best crypto casinos and the world of sports is here. This weekend, Bundesliga is finally back and this will bring some good fun for all the sports fun that love the thrill of watching and betting on football matches. 
Our Crypogamble.tips has gathered complete information, so, let's get to analyze one thing at the time.
What are the major updates?
Rocket.Run Roulette
Yesterday evening, we received a piece of amazing news from our beloved rocket.run: they finally completed and released the game: Roulette. Incredible design and easy to get hyped immediately and play as much as possible. Our advice: do keep control over this!
Roulette is really an outstanding game and has a lot of features that a lot of people like to play with. But remember that roulette thanks to the 0, which has a payout of 35 to 1, is made in such a way that in the long run, it will make you lose. There are, of course, strategies in order to try to beat the house but still be careful while trying to use them.
We will go through roulette strategies and other features in the specific roulette page, which at the moment is still on our pipeline of things to finish. But, online there are a lot of manuals, guides and articles on all of these strategies.
Below here you will find another screenshot of Rocket.run and how nice it looks, we advise you to try it!
Bundesliga and UFC
Finally, after about 2 months in certain countries, we can see some positive changes in this whole global situation in the sports industry: Bundesliga is back on the field and UFC fighters are getting back on the ring!
Quite an interesting weekend, football fans can finally relax in front of the television with friends and watch their favourite team or even just getting relaxed by watching something fun.
You can take a look at all the odds on cloudbet and see what are the most interesting games, we will definitely watch the match between Borussia Dortmund and FC Schalke.
But, we shouldn't forget to mention also that Belarus' Vysshaya Liga is still on and that the players are still on the field. Also, the Korean league is back with more than 6 matches all over the weekend!
So, after all, we have quite a lot to follow and to have fun with. We believe this is only the beginning and a test to see if also other nations will follow their sports.
Fortunejack and the big promotion
Fortunejack's welcome package is getting an upgrade, for an entire month.
Now you can deposit (up to 4 times) and get up to 5BTC on your first four deposits. Usually, their terms and conditions are requiring at least a wagering of 40 times what you deposit in order to convert the bonus accredited on your profile, but this time you will only need to wager up to 30 times what you will deposit!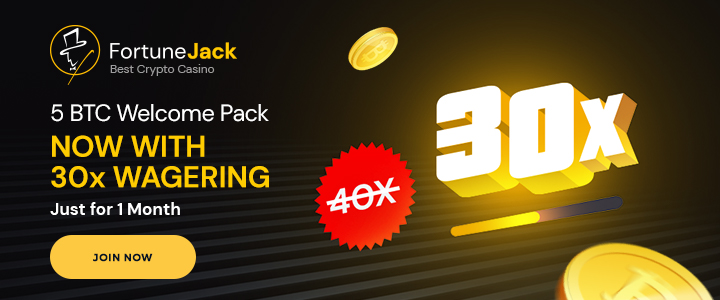 We believe that this is quite interesting due to the effort you would need to put in order to convert your bonus in real money. A very good opportunity for still didn't sign up at fortune jack and didn't have the chance to try their platform.
By the way, if you haven't had the chance to see their new site, they just released the beta version and this means that soon enough we will only be able to play on their new website. This means that the players will have a brand new user experience and a whole new set of features. We believe this is a major move for FortuneJack.
Let us ask you one thing now: what are you still waiting for? Join FortuneJack and test out the new website as well as their new updated promotion!